Stories of Yukon Food Security: Navigating a Northern Challenge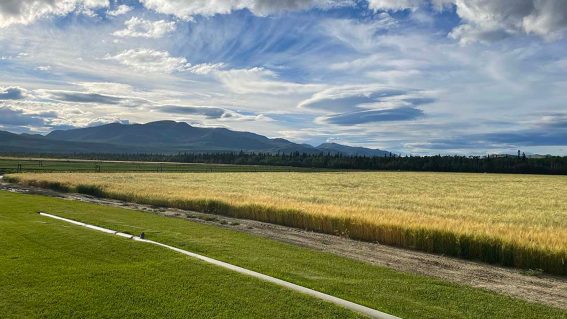 In the vast and picturesque expanse of Canada's Yukon territory, a pressing issue looms large – food security. The rugged beauty of the North conceals a complex web of challenges that affect the daily lives of its residents. In this article, we delve into the intricacies of Yukon's food security landscape, exploring the historical, cultural, and environmental factors that shape this issue and the grassroots efforts that are leading the way towards a more secure future.
Unpacking Food Insecurity in the Yukon
Food insecurity in Canada's North is a critical issue, with profound consequences for the people who call this region home. To address this challenge effectively, it's essential to understand the unique context in which it arises.
A Troubling Reality
According to data from the Canadian Community Health Survey in 2012, a staggering 17.1% of Yukoners and nearly 20% of Yukon children lived in food insecure households. In a territory with a relatively small population of 37,500, this translates to approximately 6,500 individuals lacking access to sufficient, healthy food. In a land known for its abundant resources, this level of food insecurity is nothing short of a national failure.
Food as Identity
For Northern Indigenous Peoples, food security transcends mere sustenance; it is deeply intertwined with identity, culture, and way of life. Food plays a central role in their physical, emotional, spiritual, and mental well-being, making it an issue closely tied to their survival and self-determination rights.
Climate Change and Uncertainty
Yukon First Nations' Elders have been voicing concerns about the future for some time now, urging their communities to prepare for the long-term impacts of climate change and food insecurity. To achieve lasting food security and environmental sustainability, these communities require realistic plans and financial support. Empowering Indigenous and Northern communities to lead food security planning is crucial for a more inclusive and food-secure Canada.
At the Grassroots: Preserving Culture and Community
The Arctic Institute of Community-Based Research (AICBR) has been actively involved in collaborating with Yukon communities to develop community-based strategies for food security and climate change adaptation. Let's explore two remarkable examples that illustrate the power of community-driven solutions.
Kluane First Nation's Nourishing Our Future
The Nourishing Our Future project, a partnership between Kluane First Nation (KFN) and AICBR, was initiated in response to concerns about environmental changes and declining traditional animal species around Kluane Lake communities. This three-year project, from 2013 to 2016, aimed to develop a community food security strategy. Key action items from the strategy included addressing climate change, community hunts and fishing, conservation methods, youth empowerment, healthy eating, and more.
Selkirk First Nation's Keeping Our Traditions
Located on traditional Selkirk First Nation territory, Pelly Crossing faced challenges due to shifting landscapes and animal behaviors. The Keeping Our Traditions project (2015-2016), a collaboration between SFN and AICBR, focused on maintaining Tutchone knowledge, practices, and culture while adapting to climate change. The project encouraged youth to spend more time on the land for mental health and wellness. It included activities like a photo and film project, winter fish camp activities, and extensive community engagement.
These grassroots initiatives demonstrate how communities can chart their own paths to food security. By preserving culture, sharing traditional knowledge, and fostering connections to the land, they not only address immediate food security needs but also empower future generations.
Vision for a Food Secure Yukon
A food secure Yukon envisions a future where the land and waters are responsibly harvested and protected, ensuring that every individual has dignified access to sufficient, affordable food. This vision encompasses self-sufficiency, support for local food producers, strategic planning, community gardens, waste reduction, healthy eating, education, and collaboration.
At the Grass-Tips: Policies for Food Security
At the policy level, May 2016 was a pivotal time for food security planning in the Yukon. The Yukon Government released its Local Food Strategy, which proposed various measures to strengthen the local food economy, improve access and safety, reduce food waste, and promote Yukon-grown food. Additionally, AICBR hosted the Yukon Food Security Roundtable, bringing together stakeholders from diverse sectors to foster a common understanding of the Yukon food system.
A Collective Journey
Food security in the Yukon is a multifaceted challenge that demands a collaborative effort at both grassroots and policy levels. Indigenous communities are at the forefront, leading the way in preserving culture, traditional knowledge, and sustainable practices. As we embark on a path of reconciliation, supporting these communities and fostering collective action is essential to addressing food insecurity in the North. It's not just a moral imperative; it's a smart investment in a healthier, more economically robust, and socially cohesive future. In closing, the stories of Yukon food security remind us that food is not just sustenance; it's a source of connection, creativity, and community. By working together, we can ensure a brighter, more secure future for all Yukoners.